What to expect when purchasing a Parrot Stars companion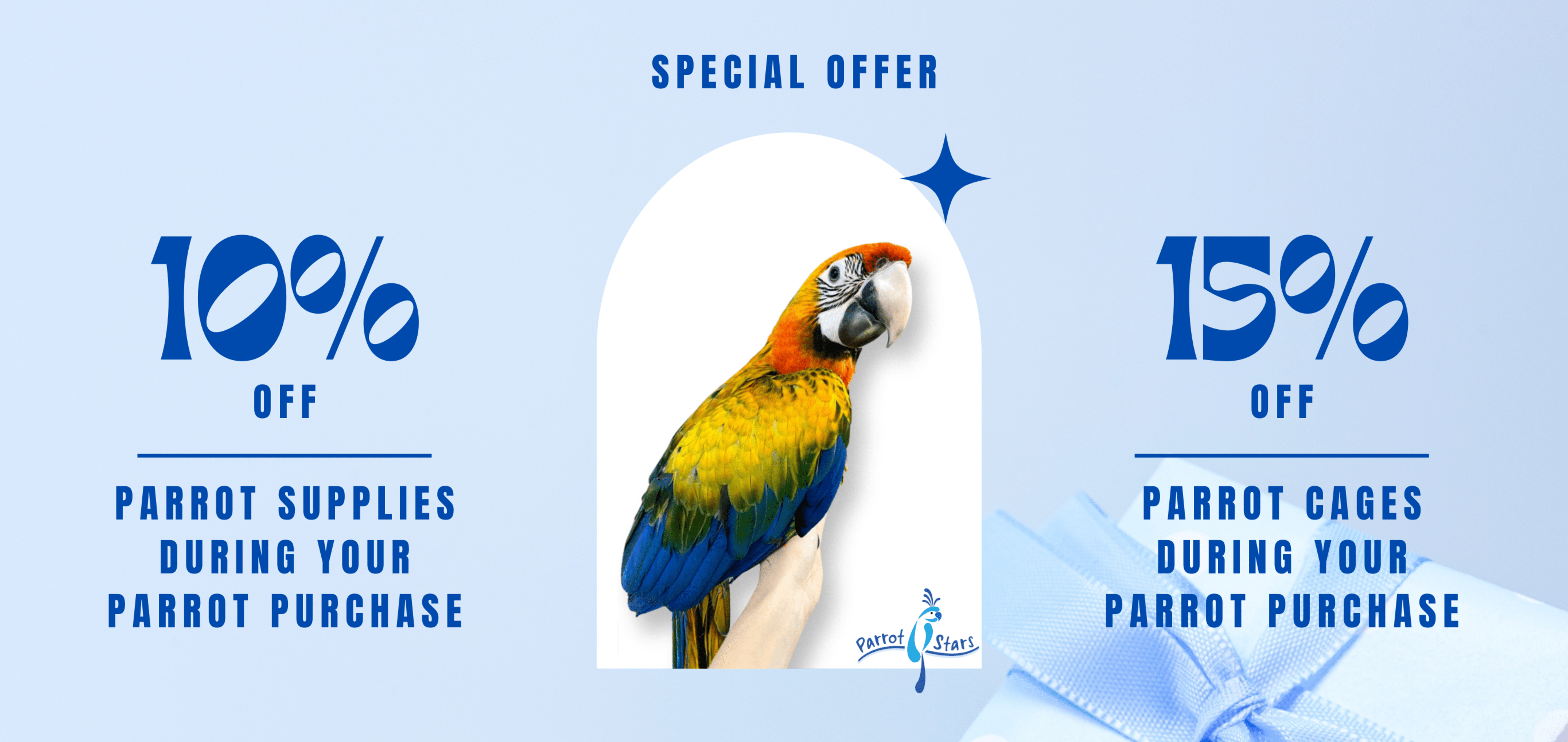 At Parrot Stars our goal is to help our companion parrots and their future humans to be as successful as possible. Here is what to expect when purchasing a parrot, or FID (feathered kid) from Parrot Stars.
We are happy to spend ample time with you prior to your decision to add a parrot to your family. We answer your questions, share our experience, and help guide you in your decision. Our hope is that prior to purchase, you feel confident in the species you are choosing, and the personality of the specific parrot you are choosing. You are welcome to come into the store and interact hands-on with the parrot you are interested in. We are here to educate, not to pressure you into purchase. If you need to go home to further consider the purchase, come back for a second visit or call with questions, you absolutely can! In fact, we want your purchase to be thought through and we want you to enjoy the experience start to finish!
We require proof of caging, perches and toys for your new feathered companion. You are welcome to purchase your cage from Parrot Stars (you receive 15% off your cage with a purchase of a parrot)! You can also provide a picture or a video of your cage if you already have it at home. It is our responsibility to confirm that our parrots will be housed in enclosures that are the correct size and have adequate perches and toys. We also offer 10% discount on all parrot supplies at the time you purchase your bird!
Our parrots have to leave our building in a carrier. We do not provide or put our animals in cardboard boxes for transport. Carriers are essential to ensure the safety of your parrot in the car. Carriers should be kept handy in your home in case of emergency or the need to evacuate the bird from your home quickly. You are welcome to purchase a carrier at the time of pick up (at a discount)! If you already have a travel carrier, you can bring it with you. We simply ask that if you bring a carrier with you, it is completely clean and disinfected prior to pick-up.
We take the addition of a parrot to your family very seriously. Our "Send Homes" (the talk we have with you prior to leaving with your bird) will take about an hour to an hour and a half. During your send-home we will discuss behavior and training, household safety, and nutrition. We will make recommendations on how to properly care for your new bird. Most importantly, we will thoroughly explain how to feed your bird and keep it as healthy as possible. We require you to purchase at minimum the seed and pellets that your parrot has been weaned on to (at a discount)! This requirement is to ensure a smooth and SAFE transition for the bird to its new home. We are here to help you after your bird goes home as well! You can call us, email us, or stop in at any time if you have questions about your new FID. We love our parrots and we enjoy hearing updates or helping in any way that we can.